-Darren Leavitt, CFA
Markets continued to rally, but the advance came on quiet trading volume. Robust economic data coupled with a solid economic outlook from JP Morgan's CEO Jamie Diamond catalyzed buying.  First-quarter earnings start in earnest in the coming week, with the financials kicking us off.  It will be an exciting couple of months as strong corporate earnings expectations have fueled the market rally.   For the week, the S&P 500 gained 2.7%, the Dow added 2%, the NASDAQ outperformed with a 3.1% advance, and the Russell 2000 lagged with a loss of 0.5%.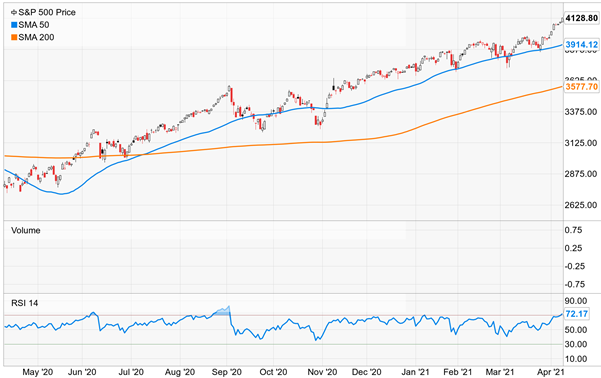 Large-cap technology issues led the advance as US Treasury yields declined.  The 2-year note yield fell three basis points to 0.15%, while the 10-year bond yield fell four basis points to close at 1.67%.  The March FOMC meeting minutes confirmed that the Federal Reserve's policy stance remains accommodative. Oil prices fell $2.12 to close at $59.21 a barrel.  Investors took profits in the energy sector throughout the week, making it the worst-performing sector.  Gold prices increased $14 to close at $1744.50 an Oz.
The information in this Market Commentary is for general informational and educational purposes only. Unless otherwise stated, all information and opinion contained in these materials were produced by Foundations Investment Advisers, LLC ("FIA") and other publicly available sources believed to be accurate and reliable.  No representations are made by FIA or its affiliates as to the informational accuracy or completeness.  All information or ideas provided should be discussed in detail with an advisor, accountant or legal counsel prior to implementation. No party, including but not limited to, FIA and its affiliates, assumes liability for any loss or damage resulting from errors or omissions or reliance on or use of this material.
The views and opinions expressed are those of the authors do not necessarily reflect the official policy or position of FIA or its affiliates.  Information presented is believed to be current, but may change at any time and without notice.  It should not be viewed as personalized investment advice. All expressions of opinion reflect the judgment of the authors on the date of publication and may change in response to market conditions. Due to rapidly changing market conditions and the complexity of investment decisions, supplemental information and other sources may be required to make informed investment decisions based on your individual investment objectives and suitability specifications. You should consult with a professional advisor before implementing any strategies discussed. Content should not be viewed as an offer to buy or sell any of the securities mentioned or as legal or tax advice. You should always consult an attorney or tax professional regarding your specific legal or tax situation. Investment advisory services are offered through Foundations Investment Advisors, LLC, an SEC registered investment adviser.